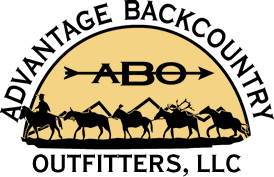 Southwestern Montana Guided Hunting For Elk, Moose, Deer, Bear and Mountain Goat
Welcome to Advantage Backcountry Outfitters, LLC (ABO). We offer both guided rifle and guided archery hunts for elk, moose, deer, bear and mountain goat. Trophy Whitetail deer hunts are also available in late November during the rut season. ABO's high mountain camp is located in the Snowcrest Mountain Range within the Beaverhead National Forest of southwestern Montana. A short horseback ride along remote mountain streams provide picturesque views as you travel to camp. The game we hunt are wild and free roaming. The elk herds reside here year round, so we are not dependent on migratory animals or weather patterns to dictate success.
At Advantage Backcountry Outfitters, LLC, our goal is to give you a lifetime experience. We limit our number of hunters to provide more opportunity for success. Success rates average 50% to 60%, with an 80% to 100% opportunity rate. Our camp staff consists of experienced guides, packers and cooks. Our guides are all very experienced hunters and very personable. They do an exceptional job! You will enjoy home cooked meals served family style. Processing and taxidermy services are available upon request.
Copyright © 2022 Advantage Backcountry Outfitters, LLC. All rights reserved.
Website design and hosting by
Tempest Technologies, LLC